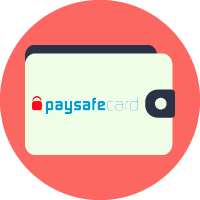 Paysafecard casinos are safe, user-friendly and easy to find in Canada. Today you can also have an account with MyPaysafe which works like an e-wallet.
Paysafecard casinos are really easy to use and if you like you can use prepaid cards for the deposits. Check out all the payment methods here.
All Paysafecard casinos
All Paysafecard casinos in Canada have to obey the national and local rules on gambling. You can rest assured that the games are fair and controlled by 3rd party.
What is Paysafecard
Paysafecard is a prepaid card that offers enhanced security on all your online transactions. Canadians can use this card in several Paysafecard casinos.
Since it's a prepaid card, you can control your spending easily. Paysafecard is the ideal solution for making micro-payments to your casino.
Paysafecard deposits
To make Paysafecard deposits, buy a Paysafecard, either online or at a retail outlet, and load it with credit. Head to the casino's banking section.
Select Paysafecard, and the amount you want to deposit. Enter the 16-digit Paysafecard PIN. All such online transactions are safe and very quick.
Paysafecard payouts
In order to receive Paysafecard payouts from your chosen casino, you'll need a My Paysafecard account. Remember that this has both monthly and lifetime transaction limits.
Head to the casino's accounts section and choose the My Paysafecard option. Simply specify the amount to be withdrawn and confirm the card's email address.
Paysafecard payout duration
The payout duration can be anything from 1 to 3 working days as the casino must verify your casino account and check that any wagering requirements have been fulfilled. After that, transfer to your Paysafecard account will be fast.
Paysafecard fees
Paysafecard charges a monthly maintenance fee of CAD 2.5. This fee only comes into effect 18 months after the purchase of the card. Some retailers might charge a fee for purchasing a Paysafecard, and currency conversions will also incur a fee.
Our experience with Paysafecard
We found this payment option to be available at many Canadian casinos use this payment option. Our experience with Paysafecard has been very positive.
The card is safe and easy-to-use. This payment option is good for those who want to keep a close track of their gaming spend.
New Paysafecard casinos
Most of the new Paysafecard casinos in Canada offer hundreds of games, and attractive bonuses to their players. You can access these casinos via smartphones.
Some of these gambling websites have 100% matching bonuses for their Canadian customers. If you are lucky, you might receive a few free spins as well.
Check out all new casinos in Canada below!
[table id=19 /]
Other payment methods
Of course, Canadian players can use other payment methods. Neteller is a popular eWallet, but Skrill and PayPal can't be used for gaming in Canada.
Many online casinos in Canada welcome Bitcoin-based payments as well. Bitcoin casinos sometimes give special bonuses to their players. You can make phone-based payments also.
Some players rely on Interac for their casino payments. Many gamblers also use Bank Transfers for online transactions. All these options are safe and reliable.
Paysafecard pros/cons
More information coming…
Last updated: